Carly Leahy
On democratizing fertility and reproductive health information for women and empowering female creative leaders.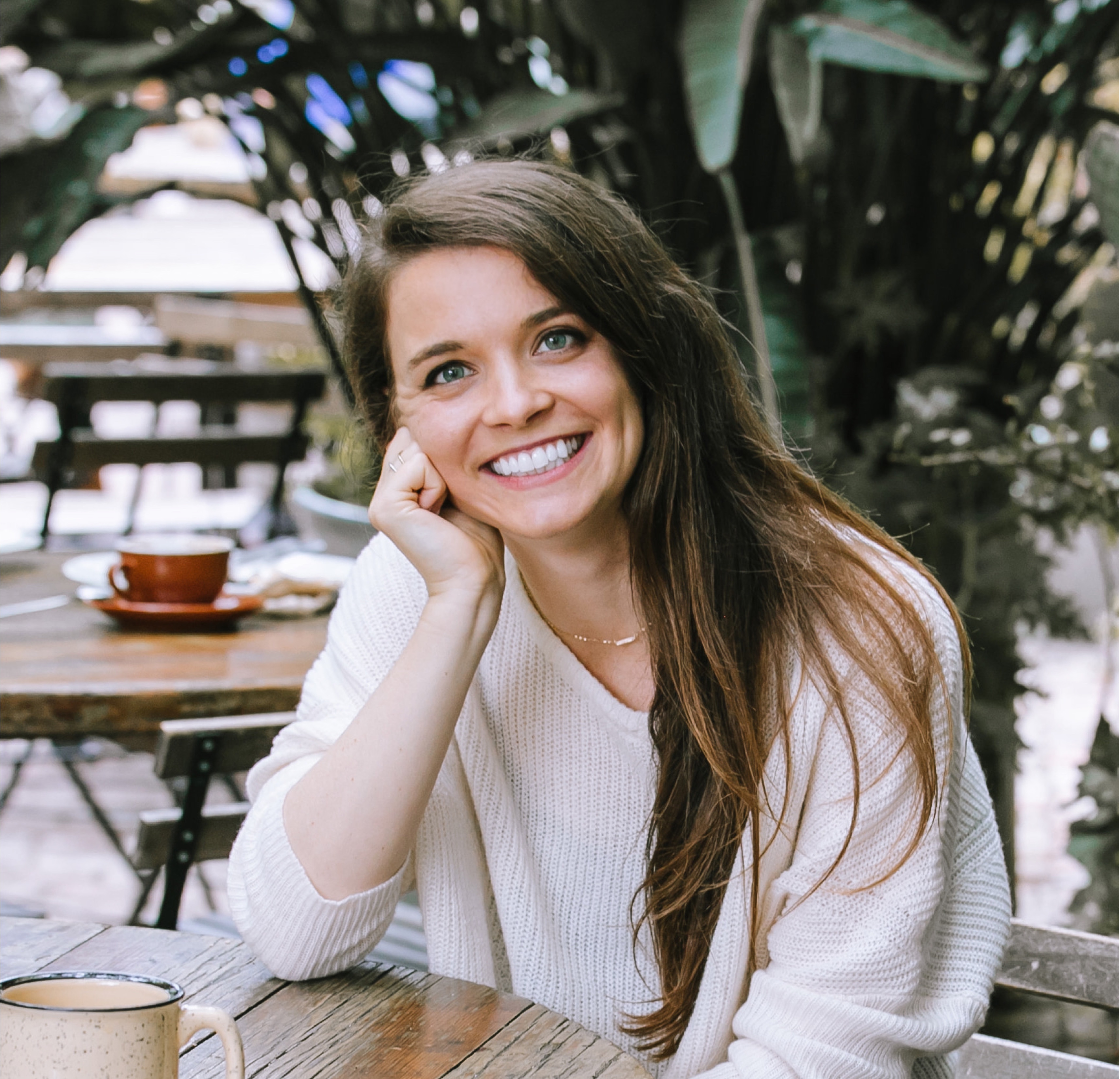 Photo: Modern Fertility.
Carly is the co-founder and CCO of Modern Fertility and a brand builder through and through. She has held brand and marketing roles at Google– leading creative for a grassroots initiative to help small businesses succeed online–and Uber, running content and creative strategy for new Uber products like UberEATS and UberHEALTH.

At Modern Fertility, she's focused on making the science of fertility more human and helpful for women everywhere. Modern Fertility is one of a growing number of female-founded tech brands putting design at the center of their proposition.
Carly Leahy always followed her passion in creative strategy and storytelling. She inspires women to be creative in fields that need more innovation and is now the first to bring on-demand fertility and reproductive health information to any woman.
Maya Frai: Tell us a little bit about yourself.
Carly Leahy: I am originally from the Boston and started my career working at creative agencies. I then moved in house at Google where I worked on a program to help small businesses succeed online and get websites. I then moved over to the experiments team at Uber where we built Uber eats, Uber Rush, and Uber Health from the ground up. I learned a ton about building products from scratch and working in really smart product organizations.
MF: What's the driving concept and main motivation behind Modern Fertility?
CL: Modern Fertility is an at-home fertility test women can take before they're ready for kids. I met my co-founder Afton and we began to talk about fertility. I had a very interesting take that was a little bit different from how she came into the space. But to make a long story short, I was focused on my career and didn't think I needed to be bothered whatsoever by fertility information. I was kind of avoiding the whole thing, but once I started digging into the fertility science, there was so much that I couldn't believe that I wasn't prepared for. It really blew my mind. I started talking to my friends and I realized I was definitely not alone in that. I mean how do we spend so much of our lives preventing pregnancy and then when it comes to planning for it, it's just this sort of mysterious black box? So I made it my personal mission to show my former self the value in proactively understanding your body so that you really have the power to make the future choices that are right for you. So here we are. And coming from a creative brand and marketing background, I have found my way in this tech world. I have found that creative people are really necessary as things become more and more automated. I've definitely come a long way from majoring in English, but I'm here to say that if you're a creative woman, you are needed in the tech world to solve so many problems that have been strewn by the wayside for too long.
MF: Coming from being an English major, how did you get into the business / tech / creative industry?
CL: Coming from Amherst, a liberal arts school, we actually didn't even have a core curriculum and you could take whatever you wanted. I always loved writing and reading and I became an English major because I could take all of the cool literature classes. People would always ask me "do you want to be an English teacher" and I would say "I want to find a creative application of business." I thought that there's got to be one out there and at the time, it was sort of the beginnings of the Mad Men craze. I narrowed in on advertising, because it's a field where you could be a storyteller, an artist, and where you can work with really creative people and solve creative problems. So that's where I went right off the bat. I got into advertising at a really interesting time because all of the more traditional, old-school ways of doing things were really being turned on their head. Ad firms really needed these "digital natives" to come in and help bridge this gap between what was going on with social media and the "always on" kind of advertising like the TV campaign rollouts. I worked on a handful of projects and really got to understand how big companies have been operating, then tried to help infiltrate some of that with quicker-moving, social-based digital activations. Being in that world, I had no idea what the tech world had in store. And my then director at Google reached out to me via LinkedIn where she had seen me in a "creative people" article. I knew she needed some sort of creativity on her team and I remember thinking when she reached out to me like what would I do at Google? Code? But what I didn't know was that there were these unbelievable pockets of people building products and solving creative problems,trying to humanize technology for the world. So I moved out to San Francisco about seven years ago and started working at Google. I learned the ins and outs of this tech world and became more and more confident that creative people need to tell a story around the products and services that companies are building.
MF: From working at Google and then Uber, what lessons did you learn from your experiences that you apply to Modern Fertility?
CL: I think the number one thing that I learned, and I don't think is unique to the tech industry, is that you want to be the kind of person people want to work with. That is the number one criteria for success. You want to support people and you want to follow through when you say you're going to do something. You want to be someone that people love to work with and have people say that you're someone who gets things done. Because these types of things are going to carry you through the rest of your career. It's a small world in the Bay Area and people talk. It's better to be paying it forward and be someone who's reliable, dependable, and a great teammate. I think this is the number one thing that you can do. And if you can do that and you have a growth mindset to get better at areas you need to work on, then people will want to work with you and make things happen.
MF: You met Afton when you were at Uber. When did you both start thinking about forming a company together?
CL: Yes, so we met while I was at Uber and we were starting to work on what Modern Fertility could look like. I really couldn't get the idea out of my head and I started doing what I do when I don't understand things—I just read all about it. We started this really dorky impromptu "egg book club," where it is now a library in our office with all the books that we read. We kept adding to it to make this collection of fertility books. There's this one book called "Motherhood Rescheduled" and it contains six stories of women having different experiences with fertility all across the map. It blew my mind because I was just a few years away from starting to think about that stuff a I was not exposed to it whatsoever. I became entrenched in figuring out this gap that seems so universal to me — I mean how do we spend our entire lives preventing pregnancy but have no tools to plan for it? It became an obsession. After developing the idea further, Afton and I decided to apply to Y Combinator, which is a startup incubator out in the Bay Area. When we got into YC, it was sort of this call to action where we looked at each other and said "alright we're doing this thing" and that's when I quit my job and we went for it.
MF: By that point, so you had a lot of research on the idea. Did you also have a prototype of what you guys envisioned? What did you really have to show them that this idea is going to be great in the long term?
CL: Yeah, we had a lot of conviction! We set the wheels in motion by really showing how we were uniquely positioned to do this. Afton and I always talk about how we don't know how people can start companies when they're 18 years old or 20 years old, because we had called in every single favor from every single person that we learned from –– people from Google, Uber to 23andMe helped us get going. We had the power of all of these connections - and it proved crucial. That kind of goes back to what I said before, we really worked on maintaining good relationships with people so they were happy to help us later. I think more than anything we had the conviction and the grit. We were basically signing away our lives and we were going to do nothing else but work on this idea because this is what we really believe in. I think so often, it's just deciding to do something that can be the biggest and the trickiest part. People always ask, "well how did you do it? How do you build a company?" And I have the most boring answer in the world — a list. We literally had a document where every day we would just have a list of a few of the things that needed to get done. We'd cross off the list so we'd know what the other person is doing and we'd just keep going from there. So it doesn't sound super romantic or sexy, but it was all lists and they were awesome.
MF: What can you tell us about the process of getting a fertility test? What is the information asymmetry you guys are trying to solve where women don't know where to go or what to do for a fertility test?
CL: Absolutely, so I'll start by saying that historically there has really been no such thing as fertility, it's only been in-fertility. Traditionally, you only learn about what's going on with your reproductive hormones after you've already started to try to have a kid and maybe had trouble. It's a very backwards way for everything to operate, so for us, it was really important that we saw these tests as better indicators of future fertility than just relying on your age alone. We worked to find a way to take those same infertility hormone tests out of the reproductive endocrinologists clinic, where they can be expensive and not accessible to everyone, and make sure every woman has the option to take these hormones tests and have these data points for making future decisions. The way it works is that you head to our site, modernfertility.com, and you order a test that you can take at home. Once you get your test, you collect a blood sample and you pop it in the mail. And once that sample is processed by the lab, you get access to a dashboard that walks you through your results. It shows what your hormone levels are and what these hormones mean and why they're important. This is personalized education about your body. After seeing the results, you can chat one-on-one with a fertility nurse to get your questions answered. We also have a Modern Women community, which is an amazing group of women talking about everything from reproductive health to our careers and everything in between. We also have live webinars where anyone can ask questions - anonymously if you prefer. Lastly, what we're actually testing is up to eight fertility related hormones. One hormone, AMH, serves as a proxy for how many eggs you have waiting in the wings in your ovaries. And it's actually secreted by the little cells surrounding the follicles, which hold your eggs. So the more you have, the more mature the eggs you have are. When you track AMH over time, you can get a better sense for how our fertility curve is changing over time.
MF: How are you managing to shift consumer behavior in taking an at-home fertility test with a finger prick versus going to doctor in person?
CL: I think whenever you introduce a new behavior, you're not exactly sure how it will come across to consumers. We were actually unbelievably blown away by the number of women who raised their hand and said "oh my god finally I can do this. I can have information and I don't have to just rush into freezing my eggs." That said, convincing women is not something that has been part of the puzzle. It's been showing women exactly what they will get and making sure that they know they have the option to get it if they want it. We're here for them to answer any questions and help them understand the science behind it and really service as a clinical, neutral resource that they can always trust. Another thing is that we always say to go and talk to your doctor about these results. You are the one who decides what to do with your results It's really amazing that egg freezing exists as an option for women, but it's still largely an invasive and expensive process. To be able to give women an option to see what's going on before they feel like they have to make a big jump like that is really important to us right now.
MF: Do you see the MF product as something to encourage women to be more proactive in going to the doctor post-viewing the results or an individual experience all on its own?
CL: It's absolutely meant to be a conversation starter with your doctor. We're seeing more and more women standing up and saying that they want to be her own best health advocate in the same way that they want to be their own best financial, career, and dating advocate. There are all of these tools now that women are taking in stride to make it happen. So if I can walk into the doctor's office with all of these valuable data points along with a doctor discussion guide from Modern Fertility, I'll be much more well-informed and able to get my questions answered.
MF: How did you determine this process in taking this test at home and setting the price at $159 for the test?
CL: Modern Fertility uses the same exact science that reproductive endocrinologists use. The differentiator is the price and it being more accessible. So when I say the same science, I mean the exact same panel of hormone tests you would get tested if you walked into an infertility clinic. It's not new science, it is based on dozens and dozens of clinical papers and work with our Medical Advisory Board. It's super important to us that we work really closely with these experts to make sure every word that we put into the product is not just clinically sound, but also very easily understood.
MF: When you were developing the idea for MF, you said you applied YC. What were some things that you did to fundraise for the company? What are some key tactics you have for other female founders?
CL: One of the biggest things with fundraising is the reality of who we were talking to — a lot of people who would not be our end user. That was just the fact of the matter, so we had to prove that women wanted this information and that women wanted this test. We did a lot of surveying and actually went out ourselves and held events, talked about reproductive health and walked women through our reports to get their feedback. We prioritized the education for potential investors,as it's definitely not their fault in not knowing this information. We just had to do the work to make sure that they were able to understand our company's mission. And one funny thing that would happen is we would have potential investors say "okay you know, I talked to my wife and talked to my daughter." So, they were trying to do an ad-hoc focus group to try and understand how this sort of thing works. And that's their job - to do the research and understand what the market looks like. We were just incredibly fortunate to have investors who immediately understood the value and the implications of women owning their personal health information. Overall, we had an extremely positive experience.
MF: Does infertility affect men and women equally? Does MF plan to also include fertility tests for men?
CL: Great question and everyone asks this. It absolutely takes two to tango and fertility is by no means just a women's thing. Right now, we're focused on women and making sure they have the information they need. Female fertility is incredibly complicated and deserves our laser focus. We're committed to listening to our customers and making we're doing a really good job of achieving what we promised from the outset. But, we're also definitely talking to our customers every day about what they want next.
MF: What do you see as the next step for MF? Where do you see your business model going?
CL: We are very focused on helping her understand her reproductive health and really trying to guide her through that process. We are really honing in on everything she needs to be really well equipped if she does decide to have a kid in the future — so making sure that she's able to reorder the product year-over-year and track her hormones over time to understand what's changed and what she can do about it. She will absolutely tell us from there what else she needs and we're very lucky in that regard to have our Modern Women community. It's this really amazing community, almost living thing where we're in there every day figuring out how we can serve women better. I think one big part of that job is the research and the content that we put out into the world. We have the Modern Fertility blog, where every month we get together and we think about what questions women are asking us. For example, someone asked us about Plan B infertility and we take it upon ourselves to dig in and make sure we're going to write the best damn piece about it to get these questions answered. So, we're also very much focused on making sure that we are helping her cut through the Google wormhole and get answers to some of these questions that have a lot of misinformation attached to them.
MF: There is definitely a lack of education for young women on reproductive health. How do you think this is changing?
CL: Yeah, totally. We actually host events called "Hormone Nights" at our other office a few times a week and sometimes at other companies, where we go through a fertility and reproductive health 101. It's really the first time we're talking about this stuff in public. It's like how sex ed was all about prevention, but now the conversation is about being proactive and showing women what's happening in their bodies and what they need to know about menopause and fertility treatments — all of these things that nobody really sat us down and taught us. So we now need to course correct for that. We need to ensure we're doing this actively for women who are trying to have children or will be trying soon. We also need to make sure we're arming women with all of this information for future generations.
MF: What is your perception of other healthcare start-ups in the tech industry like Oscar Health, Hims, 23AndMe, etc? How do you think tech is changing health care?
CL: I think we're seeing a rise of femtech with a focus on women's healthcare. A rising tide lifts all ships. One very exciting trend is companies helping women understand their bodies and be their own best health advocates. 23andMe was absolutely revolutionary in helping us be able to even send something to somebody's house have people be comfortable with taking a test at home. I think these companies are paving the way and it's going to be really interesting to see what happens when women have all of the tools at their disposal.
MF: You stated in a talk at Berkeley that "the business world needs more creative women." What does this mean to you and how do you think this is changing?
CL: So this is really embarrassing but when I was an English major in college, my English thesis was about the evolution of women's literature and writing and how the novel began as a medium for women to write. At first it was like a novel under a pseudonym, but then with novelists like Jane Austen, the novel became the woman's medium it has evolved over time. Now, we have "mom bloggers" and this whole sort of evolution of what it means to be a creative woman. I think we're seeing a similar evolution in today's world and from my experience, it's gone from "oh, to be a creative person in business, you have to be a writer or an artist or in advertising." But in reality, it's not at all that way. You can build a company if you understand how to reach out to other people, create a story and humanize a product that you're developing. You are an absolute integral part to building something impactful for the world. I'm a creative person and I always thought that I was somehow put in this box that meant I'm not a "business person" or I'm not well-versed in partnerships or things like that. But this is absolutely not true. If you are a creative person and you have intuition and all these great soft skills, you can think outside the box. We need to eliminate feelings of impostor syndrome — and it's certainly happening. We're seeing more and more tech companies take really creative people and put them at the center of design and product. They are really revolutionizing the way people think about businesses, which is really uplifting and I think we're going to continue to see more of that.
MF: Anything else you'd like to add?
CL: I just want to say thank you for being open to chat about our work. We're so excited when anyone wants to talk about proactive fertility because it is so important that we're all becoming more aware that it's an option for us. We really appreciate the part you're playing in helping us spread the word.